I'm in the mood for writing something, but I don't have anything substantial to create a long enough post.
So, welcome to my blog post dump, where it's just a series of random blurbs about anything and everything.
One Piece live action
While I love that my boy Mackenyu got cast as Zoro, I don't know how to feel about the One Piece live adaptation. I dropped the anime a long time ago, so I don't have any strong feelings as a fan. But… I can only imagine it going badly. Or mildly okay.
Some live adaptations are made really well. I especially enjoyed Death Note, where Yamazaki Kento starred as L. Tokyo Ghoul wasn't too bad either. However, those were Japanese adaptations. As in, those adaptations were made in a culture that created the original content. If anything, I would say they had a better understanding of how to properly adapt the original content (if that makes sense).
This would make an interesting discussion, I think. Do live adaptations do better, or do you enjoy live adaptations when the original content and the adaptation are from the same culture?
I'm not too pessimistic about this, but not everything needs a live action, especially Western ones.
BTS killing the AMAs
Seeing their reaction when they won Artist of the Year was everything.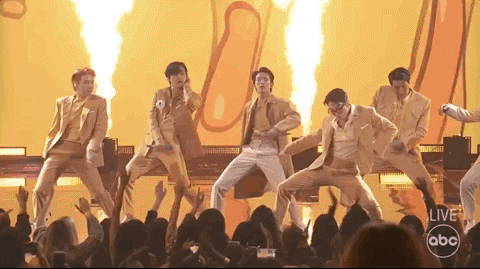 Their stage outfits for Butter were fire. I loved their energy, and it was great seeing them perform in front of a live audience again. However, while I love their stages, I could only imagine how hyped it would be if they performed some of their Korean tracks like Idol.
Kpop comebacks
SEVENTEEN and TWICE's comebacks have been the highlight for me. SEVENTEEN never disappoints; all of the tracks are fire. I was less hyped about TWICE's releases, but it's a solid album.
Anime update
I mentioned in my last blog dump post that I was looking forward to Mieruko-Chan. Well, recent readers probably know how that turned out. In case you missed it, you can read my disappointment midway impressions on Mieruko-Chan.
Drama and movie update
I've been trying to find a drama to watch after dropping My ID is Gangnam Beauty. While that show wasn't bad, it got predictable near the end, and I decided to drop it.
Next, I tried HellBound, Netflix's most recent Korean drama, but I don't vibe with that one. The storyline is a little strange, I think. But, I mean… we got zombified Hulks. I never thought I would see that.
I want to give a special shoutout to the Chinese movie, Upcoming Summer. It's about friendship and one-sided love, and it's a refreshing and realistic take on the usual youth romance films. And this movie does a good job at portraying that while making all of the characters incredibly lovable. The two leads have incredible chemistry, and I'm living for it.
---
That's all for my blog post dump. Hopefully, y'all are safe and healthy. I still really need to reorganize my tags and categories. The pain.